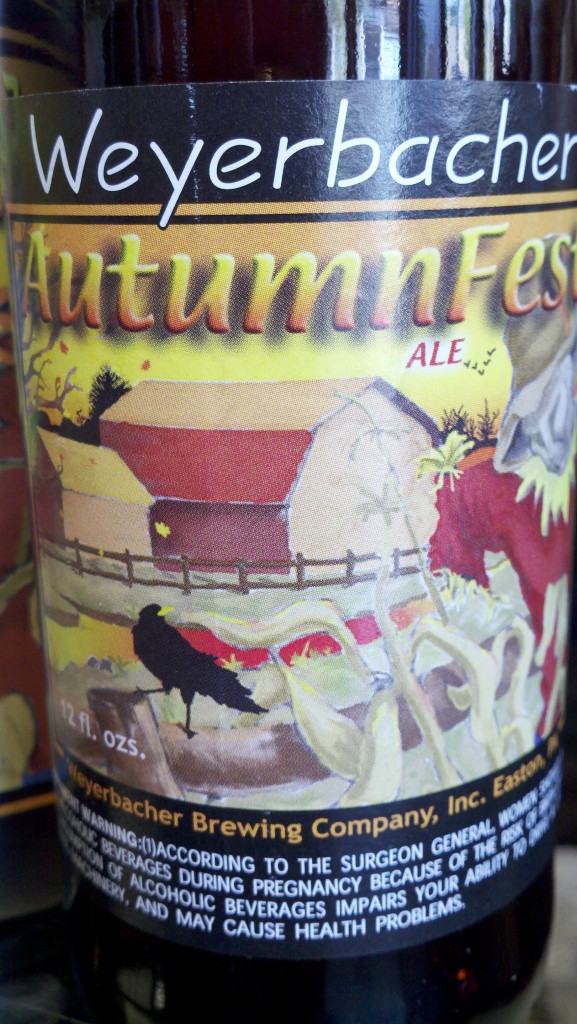 This brew arrived in town last week.  So it doesn't feel like fall in Atlanta.  Doesn't mean you can't drink like it is.  From Easton, PA comes the second edition of the breweries fall sesasonals – "Autumnfest".  The week before, it was Weyerbacher's Imperial Pumpkin Ale.   Let's dig into this one.
Commerical Description:
AutumnFest is Weyerbacher's own unique twist on the German Oktoberfest style. Copper-amber in color, AutumnFest is made with Vienna and Munich malts for that authentic, Bavarian easy drinking taste.  Each sip imparts a wonderful roastiness of malt on the tongue followed by a smooth, consistent finish.  Wonderfully balanced with a clean, velvety, slightly fruity taste, AutumnFest is the perfect beer for the Fall- a nice transition between the lighter beers of summer and the darker, heavier winter brews. It's a favorite of many Weyerbacher aficionados, who anticipate the end of summer with this wonderful beer.
Style: Amber/Red Ale
Taste Expectations: Fall written all over it.  Deep amber color with toasty malts and caramel.  Some bready flavors with a little nutty flavor mid taste.  You might even find a little toffee & brown sugar.
Availability: 12oz/6 pks. Draft.  Late August- November seasonally.
5.4% ABV