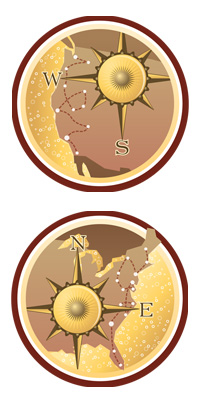 Untappd seems to be gaining a lot of steam.  A couple of badges were added today celebrating The Ladies of Craft Beer.  Also, 2 pub crawl badges were added. Check out Untappd's blog post:
Everyone loves a good beer crawl. New locations, new beer lists; there's nothing to not like – other than maybe the walking, but a little exercise is also good. That said, we've got some fun new badges to help encourage you to explore different bars. We know it can be scary leaving the usual watering hole, but there's a whole world of beer bars out there just waiting for you!
First up, we've teamed up with Ladies of Craft Beer to bring you two badges:
Ladies of Craft Beer is pleased and excited to be joining forces with Untappd to create two new badges.
LadiesOCB was created with the mission to encourage people (women specifically, but men also) to try craft beer and to learn more about it.  Our website, www.ladiesocb.com, includes posts from women who enjoy all aspects of craft beer, including reviews, news, recipes, and homebrewing tips, all of which are an online resource to spread our passion for and joy of craft beer.
The two new badges, "East Coast Brew Crawl" and "West Coast Brew Crawl" were created to encourage users to explore their local craft beer bars. In order to gain these badges, one must check in to at least five venues that have been hand selected by the members of LadiesOCB.  While you can still earn a check-in towards the badge at your local hang out (as long as it's on the list), LadiesOCB encourages you to get out there and try new bars either in your area or while traveling.
For a full list of the qualifying venues, check out http://ladiesocb.com/from-the-editor/ladiesocb-badges-on-untappd/.  Be sure to tweet us @LadiesOCB and @untappd when you check in – maybe a LadiesOCB member will be able to join you!
Next, we are proud to announce that we've teamed up with Thrillist Rewards to offer a badge for their upcoming East Village Craft Beer Crawl reward. The East Village is well known for their bar scene, so it's no surprise that there is a great selection amazing craft beer bars. Even if you won't be participating in the official crawl event, this badge is open to anyone who wants to explore at least five of the following East Village bars:
Billy Hurricane's
Croxley Ale House
Destination Bar
Drop Off Service
Good Beer
Idle Hands
Jimmy's No 43
Octavia's Porch
Poco
Professor Thom's
Zum Schneider
An official crawl map can be found here: http://untpd.it/evilmap
On a slightly different note, we will also be introducing the Untappd Groupie badge. As the Founders, we are building Untappd as a tool to not only help the community, but to help us. We are constantly learning and exploring the beer world as a result of creating Untappd. As a fun twist, in order to achieve this badge, you must check-in to at least 5 different beers that the founders have had.
That's it from us! Cheers!