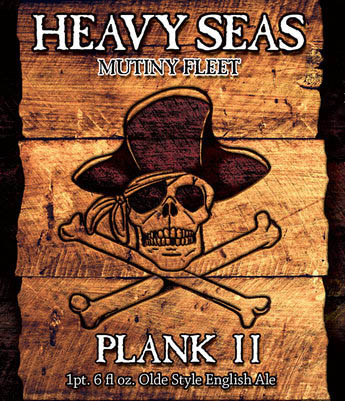 Had a little chat with the southeast's most popular beer bachelor from Heavy Seas Brewing, Kevin Fox.    Looks like the Baltimore based brewery has finalized details about their second Plank release.   Just a recap – this series was announced in early 2011.  Plank is a  brand new experiment by Heavy Seas showcasing unique wood aging treatments to add nuance and flavor to the beer.  Each beer is allowed time to age on the wood during secondary fermentation.   Plank I was an old ale aged yellow poplar – the first aged on that kind of wood.
That brings us to Plank II.  It will be a doppelbock, aged on roasted eucalyptus and poplar.  Heavy Seas has found that different head treatments applied to the wood changes the flavor profile, thus changing the beer.  Hallertau hops will be used in this brew.  (Brewing begins in January.)
Availability: 22oz bombers
Arrival: March, 2012.
7.5% ABV
note: Not official artwork. I did that in the car on the PA turnpike headed to the NHL Winter Classic