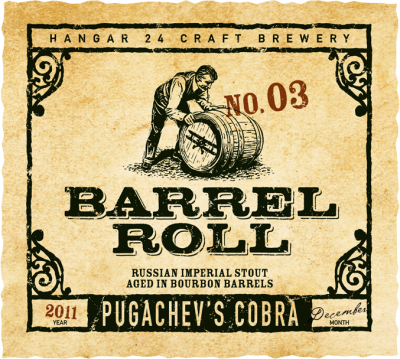 Hangar 24 Brewing (Redlands, CA) will be pre-selling bottles of Pugachev's Cobra today at 4 pm.  Cobra is an Russian imperial stout, aged in bourbon barrels.  The 3rd release in the brewery's Barrel Roll Collection.  What's behind the name? Pugachev's Cobra is a plane maneuver where the pilot lifts the nose of the plane nearly vertical, then back to attack position.  Invented by Victor Pugachev.  For this stout, Hangar 24 filled 250 bourbon barrels with the stout in March, 2011. It has been aging over 8 months.  The beer is officially released this Saturday, 12/10.
Get ready for an assault on your senses with PUGACHEV'S COBRA, an intense Russian Imperial Stout. This rich, black beauty with a thick caramel head is bursting with aromas of chocolate, vanilla, oak, bourbon, licorice and dark fruits, while flavors of chocolate-covered plum, sweet malt, bourbon, and roasted coffee explode on your pallet. This is no ordinary beer; three different dark roasted malts and rich maple syrup are combined in a truly unique brewing process to create complexity and depth. Once fermented, it's then aged for eight months in freshly emptied bourbon barrels. This powerful concoction is designed to be enjoyed now with friends or cellared to perfection and savored in the years to come.
Style: Russian Imperial Stout (Barrel Aged)
Availability: 750 bottles, corked & caged.
16.5% ABV
Today at the brewery:
On tap at 4PM:
-Non barrel-aged Pugachev's Cobra (Russian Imperial Stout)
–Small Stout (made from Pugachev's 2nd runnings)
–Polycot (yes, we said Polycot. We know it has nothing to do with Pugachev's Cobra…but we miss it too, so why not!?).
5:00PM – We'll open a couple cases of Humpty Bump, Release No. 02 in our Barrel Roll Series
6:00PM – We'll open a couple cases of Immelmann, Release No. 01 in our Barrel Roll Series
6:00PM-9:00PM Wednesday night music on the patio (we're making it an every-Wednesday-night-tradition, assuming the weather is good) performed by "All Marbles", a 4-piece rock roots band.