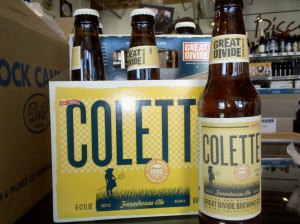 You may or may not have seen this seasonal offering from Great Divide over the weekend.  Colette is a saison from Great Divide, back for its second year.
Colette is a brewed as an homage to Belgian farmhouse workers.  It is just that scenario that farmhouse ales evolved.  Read my previous post about the history of this ale HERE. This saison is brewed with barley, wheat, and rice at high temperatures, with a 4 yeast strain combination.
Tasting notes — In Colette you will note some spicy wheat tones, with orange and coriander.  There are lots of fruity tones in this farmhouse ale, no doubt from the yeast strains used in the brewing.  Slightly sweet, with a little bit of banana flavors.  Very light and drinkable, great for the coming warm months.
Hopefully you now have some familiarity with this seasonal release.  Last year Colette debuted in 22oz bottles and limited draft releases under the name Saison.  This year Collette is found in 12oz 6pks and expanded draft offerings.   Not entirely sure why GD chose the name Colette.  However, looking into the origin of the name Colette — it means "People of Victory."  As this is a tribute to Belgian farmers, could be appropriate?  Great Divide brews this for 2 months a year, so give it a try while its around.
7.3% ABV