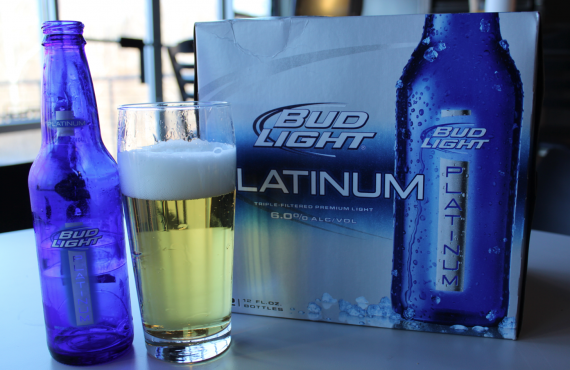 Without further ado, meet Bud Light Platinum.  The newest addition the Budweiser family.   I must admit, I've been looking forward to trying this beer.  When one of the biggest breweries on the planet makes a new beer, you can't help but wonder about it.
The Basics:
Platinum is almost 2% higher than its middle class sibling (at 4.2% ABV.)  More corn was used in this brew to enhance the flavor, increase the alcohol, and maintain the light look and texture.  137 calories per 12oz. 4.4 carbs.
The Idea:
Bud Light is far and away one of the highest selling brands in AB's portfolio.  Platinum is aligning itself with such recognition. Simply put, its the same beer you've come to know- just a little boozier & classier.
The Taste:
A little sweeter for sure.  The flavor has everything in common with the regular Bud Light.  To be perfectly honest, without a regular Bud Light to try side by side it's hard to discern the flavor variation. And no, the higher alcohol is not detectable.
Packaging:
I bring this up for a reason.  Blue glass. After doing some cursory research I have found that most recycling places do not take blue glass for recycling.  That could be a black eye for the worlds largest recycler.   It's sleek though.  It's says "hey I'm classy, but I like to party."
Overall:
The beer geeks will tear this to shreds for sure.  However they aren't the market for this beer so its of no consequence.  I can totally see this selling well at nightclubs, golf courses, etc.  First thing that comes to mind for me is the benefit of the higher alcohol content.  When you're drinking at sporting events at $8-$10 a pop, the 6% gives you a bigger bang for the buck.
More info should be available soon on BL Platinum's new website – BLPlatinum.com, although it's not active yet.
Twitter: @BeerSTJournal