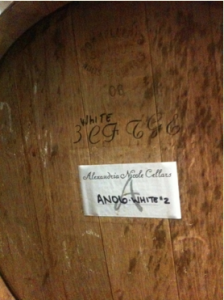 Dogfish Head is doing a little beer experimentation.  No rest for the weary.  Two beers with intriguing brew processes, and equally interesting are the beers of note –  "Noble Rot" & "Hard Tack".  Hard Tack was just transferred into a port barrel with sour cherries. Noble Rot is starting to sound like a science experiment meets grapes meets beer.  In an awesome way.  Read on for Sam's post on this –
From Dogfish's "Blogfish":
Bryan, Floris and I are having a busy-fun day on the R & D brewery in our Rehoboth Brewpub today. We are brewing NOBLE ROT and we are transferring a beer called HARDTACK (the earlier name for this beer was DRINK ME). It's going into a port barrel stuffed with pureed sour cherrries.
NOBLE ROT is a sort of saison brewed with Red Winter Wheat that is matlter by our friends at Valley Malsters in Hadley, MA right down the road from where I grew up. I think it's cool that we were able to get this from a micro-maltster as it's made in small volumes from grains harvested in New England with unique regional terroir. NOBLE ROT gains complexity and fermentable sugars from the additions of two unique grapes that come from the vineyards of of Jarrod and Nicole Boyle of Alexandria Nicole Cellars in Prosser, Washington.
The first addition is the must of Voigner grapes that have been transformed by the fungal growth of Botrytis (YUM!). This "Noble Rot" reduces the grapes water content while magnifying its sweetness and complexity. The second addition is a pinot gris grape with an intensified complexity gained through the process of "dropping fruit" – clipping away at large clusters of grapes to magnafy the quality anbd distinction of the smaller clusters harvested.
Both NOBLE ROT and HARDTACK will be on tap at our Rehoboth pub in about a month. We hope to serve NOBLE ROT at The Extreme Beer Fest in Boston and HARDTACK at GABF.
Check out the full post with pics —> http://www.dogfish.com/community/blogfish/members/sam/a-bit-of-rd.htm