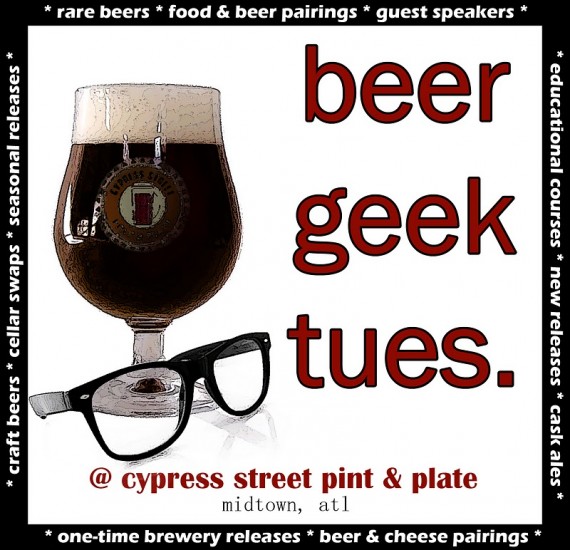 Tonight's Beer Geek Tuesday (BGT) at Cypress Street is a prep for  Purim.  What is Purim?  This year Purim falls on March 7.  For the occasion, Cypress is featuring some big beers from Shmaltz Brewing.
Genesis:  This is a strong American pale ale w/ a hoppy nose and mild bitterness. It pours a nice amber color w/ a creamy white head of mixed sized bubbles. The nose is really the best part here. It is light w/ bright floral notes and just a touch of malt.

Lenny's RIPA: Commemorating the 40th Anniversary of the death of Lenny Bruce: A Rye based double IPA. Brewed with an obscene amount of malts and hops. Shocking flavors – Far beyond contemporary community standards. The Most Radical Jewish Tribute Beer ever created

Genesis 15:15  A bold and decadent 13.4% ABV Harvest Barleywine aged 9 months in Sazerac 6-Year Rye Whiskey Barrels.   Genesis 15:15 incorporates fruit juices from the Sacred Species listed in the Torah: figs, dates, grapes, and pomegranates.  Once you drink this you'll understand why it's the Chosen Beer.

Other big beer taps include  Leinenkugel Big Eddy Russian Imperial Stout, and Malheur 12 degree for $7.50 for an 11oz pour.
Kicks off tonight at 6 pm!
Cypress Street Pint & Plate — 3/6/12 , 6 pm
817 W Peachtree Street 
Atlanta, GA 30308

The Story of Purim
The Book of Esther begins with a six month (180 day) drinking feast given by King Ahasuerus, for the army of Persia and Media, for the civil servants and princes in the 127 provinces of his kingdom, at the conclusion of which a seven day drinking feast for the inhabitants of Shushan, rich and poor with a separate drinking feast for the women organised by the Queen Vashti in the pavilion of the Royal courtyard.
At this feast Ahasuerus gets thoroughly drunk and orders his wife Vashti to display her beauty before the people and nobles wearing her royal crown. She refuses, and Ahasuerus decides to remove her from her post. He then orders all young women to be presented to him, so he can choose a new queen to replace Vashti. One of these is Esther, who was orphaned at a young age and was being fostered by her cousin Mordecai. She finds favor in the king's eyes, and is made his new wife. Esther does not reveal that she is Jewish