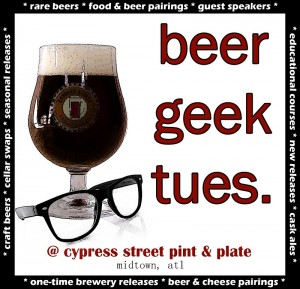 It's Beer Geek Tuesday at Cypress Street.  In addition to new beers for the occasion, a spiffy new logo is paired with them.   Now that Labor Day has come and gone, people are starting to take fall seriously.   What are the first beers I think of ?  Oktoberfests/Marzens.   Cypress Street agrees.
Today begins an oktoberfest celebration on Tuesdays.  A new oktoberfest beer (or 2) will hit tap handles each Tuesday during September.  I'm sure there will be some surprises along the way.  In addition to these fall lagers and ales, the chefs at Cypress Street will be pairing traditional German food.  Just another way to beer geek out.  The beers today:
Terrapin Pumpkinfest – Pumpkin Ale, 6.1% ABV.   Brewed like  an oktoberfest with pureed pumpkin added in the finish.  It's malty and pumpkin-y at the same time.
Left Hand — Oktoberfest. 6% ABV. Toffee, sweet malt. Hints of coffee and roasted malt.  Longmont, CO
Also – the latest in Left Hand/Terrapin's Midnight Collaboration – Oxymoron will be sold by the glass.  Read about Oxymoron HERE!
Cypress Street
817 West Peachtree Street
Atlanta, GA 30308
Twitter: @CypressStreet