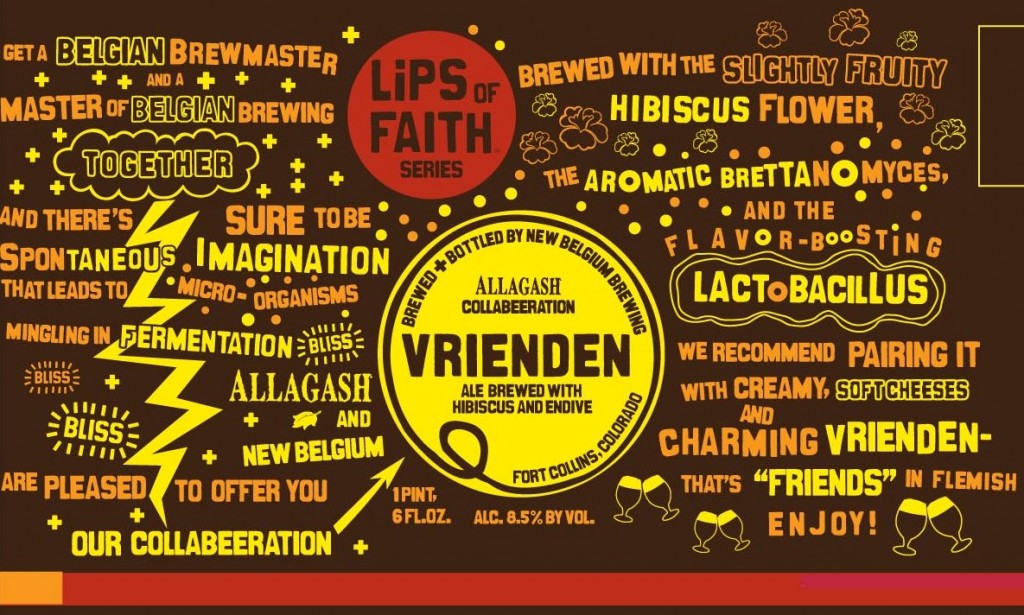 Looks like Atlanta will be receiving a new collaboration brew. New Belgium Brewing and Allagash Brewing are teaming up together to make a very unique beer – "Vreinden".   The name Vreinden means "friends" in Flemish.  That might indicate that this beer will be a sour ale.  New Belgium brewed at Allagash in Portland, ME and vice versa.
Vreinden also boasts an interesting set of ingredients (which may differ with each brew): Elderberries and Dandelion Greens, Hibiscus flower.
From the label:
Get a Belgian Brewmaster and a master of Belgian brewing together and theres sure to be spontaneous imagination that leads to micro-organisms mingling in fermentation. Allagash and New Belgium are pleased to offer you our collabeeration brewed with the slightly fruity hibiscus flower, the aromatic Brettanomyces, and the flavor-boosting Lactobacillus. We recommend pairing it with creamy, soft cheeses and charming Vrienden- that's 'friends' in Flemish."
Each edition will be bottled by the brewery where it was brewed.  Allagash will be 750ml Corked & Caged.  New Belgium 22oz Bombers, part of the Lips of Faith series.
Arrival: Late October 2010