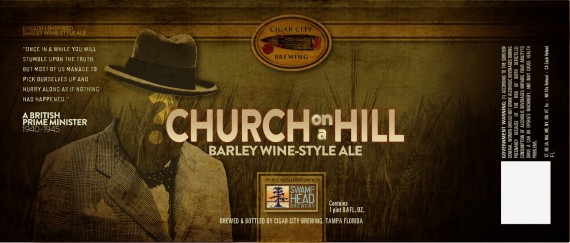 Swamphead & Cigar City Brewing collaborated last year on 2 barleywines.  An American barleywine was brewed at Swamphead, and an English style brewed at Cigar City.  This is the same brew that was called "Churchill," until the Churchill Estate shut it down.   On February 8th, both beers will be released at their respective breweries.
Finally there is a release date for our collaboration beers with Swamp Head Brewery: Roosevelt American Barley Wine and Church on a Hill English Barley Wine! Wednesday, February 8 at Swamp Head in Gainesville and Thursday, February 9 at Cigar City in Tampa. Limited bottle sales at each location and both beers will be available on draft in limited quantities. Exact times will be announced shortly.
Style: Barleywine
Availability: 750ml bottles. 1 time collaboration.