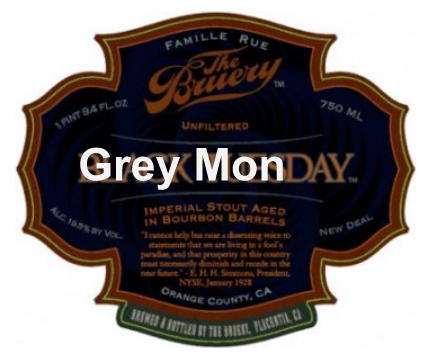 A special release to The Bruery's Reserve Society members will be a Black Tuesday variant dubbed "Grey Monday."  The beer is essentially Black Tuesday aged on hazelnuts.  Believe me, this beer will be a rare one too. There will only be enough bottles to cover sales to the 2012 Reserve Society members. No one else.  The Reserve Society email reads like this:
Your Reserve Society membership was said to come with 2 pieces of exclusive merchandise and there has been much speculation as to what that 2nd item would be.
To be honest, our original ideafor the 2nd item didn't work out. Timing, pricing and overall quality of the item just didn't hold up to our standards. We really wanted to find something special for our Society members and felt that putting our name on something generic wouldn't do the trick, so we came up with a new plan that we think you will all appreciate.
Every member of the 2012 Reserve Society will receive a bottle of Grey Monday.
Grey Monday is a special version of our Black Tuesday imperial stout that has been aged on hazelnuts. Up until now, only a single, 5 gallon cask of Grey Monday has ever existed, but it was one of our favorite beers to date and it resonated similarly with those lucky few who got to try it.
We are going to do an extremely limited bottling of this beer, just for you. Each member will get a single bottle. There will be no extra beer for sale. Not to you and not to anyone else. We want this one to be extra special.
Of course, we won't have this beer ready to pick up until October, around the time that Black Tuesday is released, but we were too excited to keep this information to ourselves.
We hope this information wets your palate and gets you excited for some of the beers coming your way during the 2nd half of the year.
Style: Imperial Stout (Hazelnuts, Barrel Aged)
Availability: 750 ml bottles. Reserve Society only
Arrival: October, 2012
Note: That's not the official artwork. Hopefully I didn't have to tell you that…