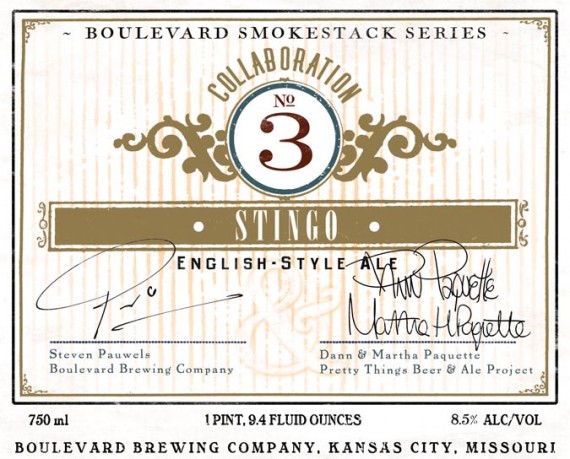 Remember back in April when Pretty Things Beer & Ale Project went on a road trip?  They stopped in Kansas City, Missouri to brew with Boulevard.  The group created the 3rd installment of Boulevard's Smokestack Collaboration Series.   Pretty Things is a bit like Mikkeller, Evil Twin, & Stillwater as they don't have a physical brewery.  Their gypsy brewers, that create tasty is various places around the U.S.  The above is a prime example.
So what is it?
They created an English style ale called "Stingo."  Stingo is a strong ale originating the northern England.  It's a pretty old style too.  You'll find literature references to it before 1700.  They are oak aged (usually more than a year) before arriving in your glass.  Stingo is said to "sting" the palate, thus the name was born.
Boulevard brewmaster, Steven Pauwels joins  Dann and Martha Paquette of Pretty Things for this collab.  Expect woody flavors mixed with fruit and complex malts.
Style: English Style Strong Ale
Availability: 750 ml bottles, Corked & Caged.  Draft
Arrival: TBA
8.5% ABV
Read More: Boulevard Brewing