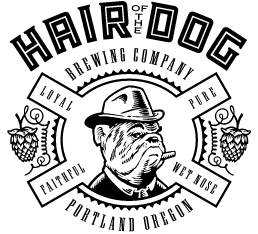 Per Alan Sprints of Hair Of The Dog Brewing (Portland, OR) will have a few releases hit on 11/12/11.
Doggie Claws – Barleywine, 11.5%.  Doggie Claws is lush and tasty, nice carbonation and a firm bitterness. It will be $5 a bottle, $95 a case.
Bourbon Fred from the Wood – American Strong Ale 11.5%.  A bit of a disappointment because of the carbonation level, which is low, even by my standards. The Beer is still delicious, smooth and rich with a great bourbon flavor. It may self carbonate in the future, or maybe not. It will be $7 a bottle, $140 a case.
Adam from the Wood –  Old Ale, 10%.  Like no other, and should make you smile, he will be $15 a bottle, limit 24.
Hair Of The Dog was founded in November of 1993.