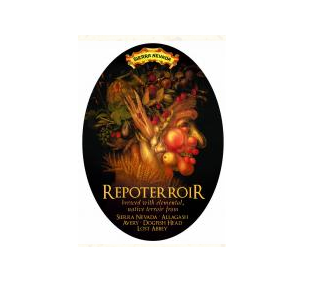 Long time friends and brewers Allagash Brewing , Avery Brewing , Dogfish Head, The Lost Abbey, and Sierra Nevada Brewing got together to brew a special collaboration beer and each selected a native terrior to contribute to the brew.
Repoterrior by definition is Noun 1.) A stock of ingredients, techniques, or pieces that a company or group of performers combines and is prepared to perform.  2.) The repossession or reclamation of the ideal of terrior from the wine world (where it means dirt) to the craft brewing world (where it means the creative thumbprint of the artisanal brewer).
So what did each brewery contribute to this 5.5% ABV session-lager?
Sierra Nevada — Wild Rice, Beets, Cucumber, Mint, Carrots
Avery — Colorado Alfalfa Honey
Allagash — Maine Purple Potatoes
Dogfish Head — Free-range Atlantic Ocean Beach Wood
Lost Abbey — Cage Free Pacific Ocean Beach Wood
Like many other great collaborations, the idea for this beer was born from conversation in a back room of a Boulder, CO restaurant.  Brewed at Sierra Nevada in Chico, CA this sessionable lager beer reclaims the earthbound mantle of terroir from the grape-soaked, buttoned-down world of wine and repurposes it in a new sudsy sense.  Featuring natural ingredients contributed by each of the five breweries, this unique and earthy beer is complex and layered but ultimately drinkable. Using the full repertoire of skills from more than 86 combined years of brewing knowledge and skill, this lager combines traditional (and not so traditional) ingredients into an ideal summertime brew.
This will be an extremely limited draft only offering available at the collaborating breweries.
http://www.dogfish.com/brews-spirits/the-brews/collaborations/repoterroir.htm