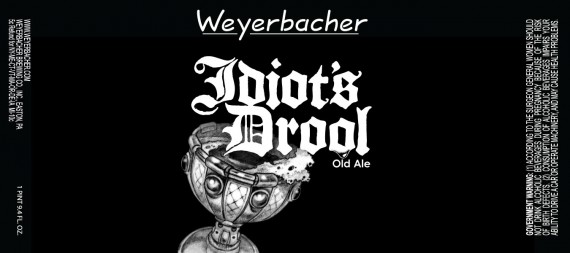 It's great that breweries release beers that everyone wants a taste of. By nature, they are brewers, not event coordinators. Sometimes it's not as organized as they'd like. Weyerbacher took a moment today to apologize for those that might have been frustrated by last nights Idiot's Drool event:
We want to apologize to our beer fans for not having better planning and organization for last nights event. We had no idea we were going to have such a huge crowd! And we are grateful for that, its just that this was the first time a release event had been this well attended. We've already had a meeting this morning with everyone involved in the planning and organization and we will make certain the next special event is handled in an organized way to provide enjoyment and opportunity for all who make the trek to Easton.
Judging from the online feedback posted here, many of you had a fantastic time at the event anyway. You loved the Idiot's Drool as well as Tango, our latest one-off, a strong belgian ale with cherries, 9.6%. We do have another 30 cs of Tango available on Saturday at normal Visitor Center hours, but since they were not labeled yet we couldn't bring them out at the event.
Mostly, we want to thank everyone for coming out and showing the love for Weyerbacher last night. We truly appreciate your patience with our mis-steps, and we're just blown away to know how much you love our brews! What we as brewers enjoy the most is created new beers and new experiences, pushing the envelope or abandoning style in general, to boldly brew where no one has brewed before! That's what makes it fun for us, and we're thrilled that you see it the same way.
Thanks again everyone!We truly appreciate it.
Dan Weyerbacher, Chris Wilson, Chris Lampe, Bill Bragg and the rest of the hardworking excellent team at Weyerbacher.