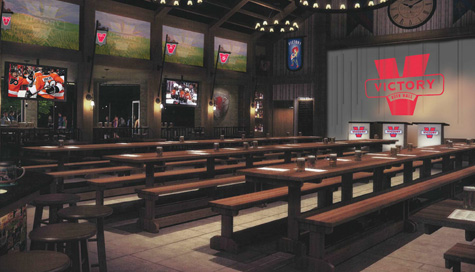 Many Philadelphians and people from all over the country have fond memories of time spent at the Spectrum in South Philly.  Among those people are Bill and Ron of Victory Brewing who attended their first concert together at the Spectrum when they went to see Ted Nugent in 1978.  Now the Spectrum is just a memory, but 34 years later Bill and Ron are still very much a part of what used to be the Spectrum (I miss the Spectrum.)
Two weeks from now, at a new sports complex called XFINITY Live!, they will open Victory Beer Hall on the very site where the Spectrum once stood.  Victory Beer Hall will not only have your typical Victory brews, but also some of the specialty brews only served at the brewpub as well as other local Philadelphia craft brews.
Victory Beer Hall will be a completely different experience from the Downingtown brewery.  It will be operated by XFINITY Live! Philadelphia instead of by Victory themselves.  It will be more of a party/social atmosphere with live music and long beer hall style tables, than the neighborhood pub feel that the Chester County location has.  Victory will train all employees and instill the Victory Brewing Company mission in each of them to ensure the same stellar experience at both locations.  Exceptional craft beer remains a top priority at both locations.