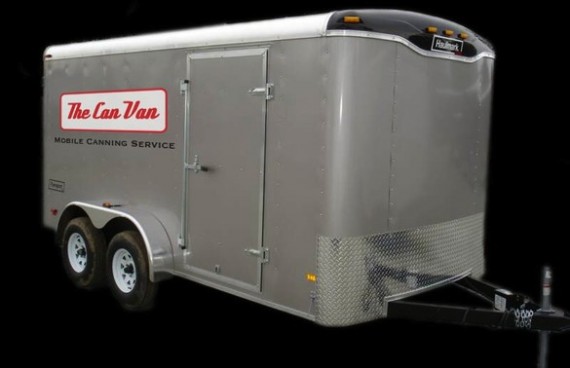 Canned beer rapidly becoming a trend among smaller breweries in the United States.   There are obvious benefits to canning – cans are allowed in more places, lighter for shipping, shields beer from light, recyclable, etc.  So why aren't more people doing it? Well, for one – expensive.  You need a separate canning line, plus empty cans are sold by the 18 wheeler load – at a price of $30,000 dollars or more.  Plus, a lot of small breweries just don't have the real estate for canning apparatus.
That's where The Can Van hopes to step in.  The company was founded by 5 friends who met in the MBA program at Presidio Graduate School.  Jenn Coyle, Lindsey Herrema, Kate Drane, Jake Blackshear, and Heath Cox have been fundraising to get The Can Van concept off the ground. Or… rolling as it were.  The concept is simple.  A big trailer with canning equipment, cans, and access to the the tanks.  Boom, you're canning.   The company hasn't mentioned how fast it is able to can, but I would bet at high speed, it could keep up with integrated canning systems.
Labels? That is an question.  I highly doubt The Can Van has the capital to buy pallets of brewery specific pre-printed cans from Ball, or wherever the artwork is done.  In theory, you could use government approved can label artwork on stickers.  As of 12/7, they are running about 7,000 short of their fundraising goal.   Check out the video. [IndieGo-Go]
Get The Can Van Rolling! from The Can Van on Vimeo.