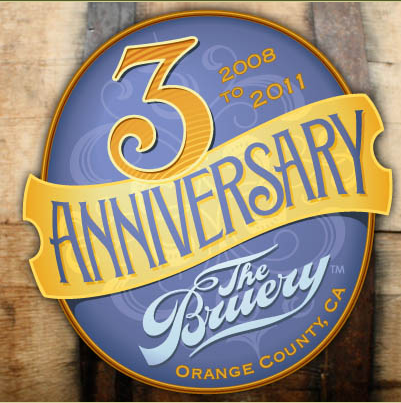 The Bruery (Placienta, CA) is turning 3 in May.   Of course there is a party, here are the details.
The event is May 29th, 2011 at The Phoenix Club in Anaheim, CA. There are 2 sessions (A 10:30am – 2pm) & B (3:30pm -7pm).
The important stuff, the beer:
Beers from The Bruery will include: Orchard White, Saison Rue, Rugbrød, Hottenroth Berliner Weisse, Mischief, Trade Winds, Seven Grain Saison, Loakal Red, Humulus, Cuir, Batch #300, Bierbauch,
Iniquitous & More
The Bruery's VIP beers will include (in limited supply): 100% Barrel Aged Cuir, Melange #1, Melange #3, Bottleworks XII, The Wanderer, Black Tuesday, Chocolate Rain, Marrón Acidifié, ISO:FT, Oude Tart, Acer Quercus, Pinotlambicus, Barrel Fermented Autumn Maple
Tickets are $35 for Gen Admit, and $50 for VIP.
The Bruery's 3rd Anniversary Celebration – 5/29/11
1340 S Sanderson Ave
Anaheim, CA 92806
<Tickets>