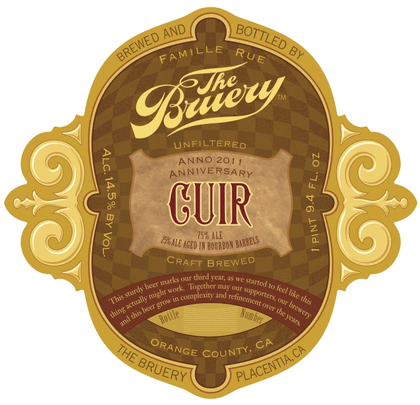 The Bruery (Placienta, CA) currently celebrates their 3rd year of brewing. Much like a wedding anniversary, The Bruery has been releasing anniversary beers named for the traditional gift for the year. Year 1: Papier. Year 2: Coton. Year 3: Cuir. (French for Leather.) Description to Reserve Society Members:
Cuir is our third anniversary ale. It is the same recipe as Papier and Coton, created using the Solera method. Layered with complex flavors of dark fruit, vanilla, oak, and burnt sugar, we blended a portion of both Papier and Coton that had been aging in oak barrels with this new batch of the same beer, adding an additional layer of complexity that will grow over time as we continue to age and blend with each anniversary, creating an older average age to the ale.
Arrival: May, 2011.  Limited 3. $20/750ml bottle.
In addition, there is also a 100% Barrel aged Cuir offering coming in May also specifically for Reserve Society Members:
This is our special version of Cuir, just for the Reserve Society. While the general release is 25% barrel aged and 75% fermented with oak, this beer is 100% out of the oak barrel leaving it stronger in flavor, alcohol and complexity.
Arrival: May, 2011.  4 Bottle limit. $30/750ml bottle