Scottish brewer Brewdog has launched their own subscription beer centered tv network this week. The BrewDog Network is available online starting today.
In addition to building production facilities and brewpubs across Europe and most recently Ohio, co-founders Martin Dickie and James Watt have been seen on their "extreme brewing" tv show "Brewdogs". Their tv show featured the duo going to extremes to brew some interesting beer, like brewing with lava rocks in Hawaii or creating the most expensive beer recipe on earth in Las Vegas.
The tv a show hasn't been seen since NBCUniversal axed the network last summer. Brewdog has continued filming episodes for their this new streaming network.
The channel features celebrities like William Shatner, Zane Lamprey, and Alison Becker (Shauna Malwae-Tweep from Parks & Rec).
In honor of the launch, Brewdog launched Beer.Porn, a parody site mimicking the number #1 most visited porn site on earth – PornHub. The mock site has some pretty porny sounding video titles like "Josh has an ale-to-mouth adventure", "Three Bad boys explode everywhere"and "Nerdy brunette loves big cocktails". All the videos actually deal with booze and not bodily fluids. 24 hours later, the domain redirects to the Brewdog TV landing page.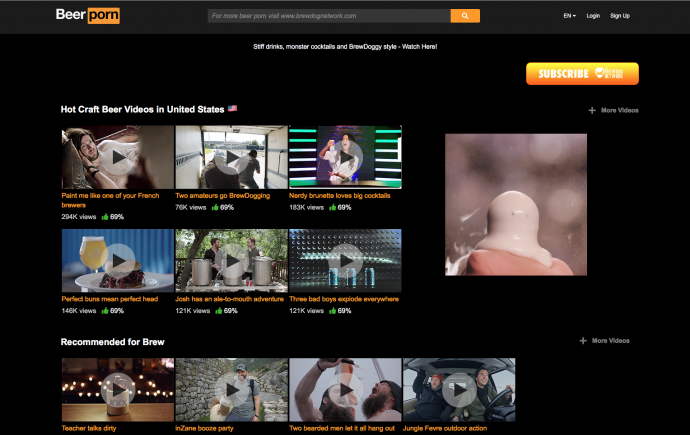 The network is free for the first 7 days, and $4.99 a month after the trial concludes. At launch, The Brewdog Network touts 14 original shows.