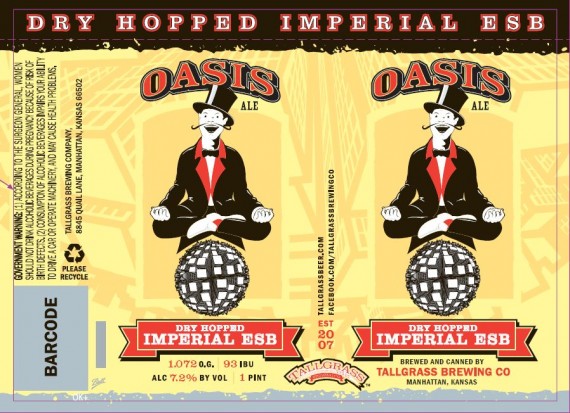 Tallgrass Brewing Oasis ESB.
Per Tallgrass:
Oasis is a Double ESB/IPAish beer that came about from playing around with one of Jeff's favorite homebrew recipes.  Here at Tallgrass we love malt and we love hops, and this beer has both of them in record quantities; well, at least records for our baby brewery.
At a hefty 7.2% ABV and 93 IBU, Oasis is a big beer that has to be priced a bit higher than our regular line of beers.  We think that once you taste the over-the-top hops and surprisingly sturdy malt backbone you will realize why it's worth it.
Definitely not a fruit-extract seasonal shandy, this beer is meant to be enjoyed on the back porch, the front porch, or even on the stoop.  What's a stoop?  Well, it's a good place to drink beer, is what it is.
Style: ESB
Availability: 16 oz cans, Draft
7.2 % ABV, 93 IBUs