Topic Archives:
Brewer's Choice Series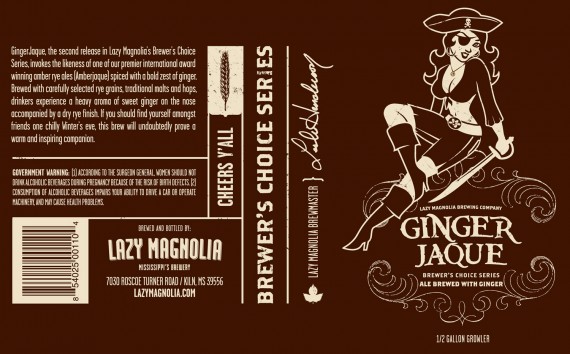 Lazy Magnolia Brewing (Kiln, MS) is adding another beer to their Brewer's Choice Series – Ginger Jaque.  Jaque follows Gulf Porter in that lineup.
Ginger Jaque, the second release in Lazy Magnolia's Brewer's Choice Series, invokes the likeness of one of our premier international award winning amber rye ales (Amberjaque) spiced with a bold zest of ginger.  Brewed with carefully selected rye grains, traditional malts and hops, drinkers experience a heavy aroma of sweet ginger on the nose accompanied by a dry rye finish.  If you should find yourself amongst friends one chilly Winter's eve, this brew will undoubtedly prove a warm and inspiring companion.  
Style: Amber Ale w/ ginger
Availability:  If it follows the Gulf Porter release- it will 1/2 gallon growlers
Arrival: Mid-November, 2011
?? ABV