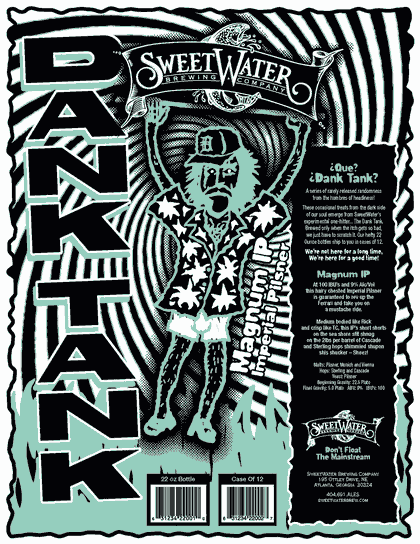 Sweetwater's newest release from the Dank Tank is an imperial pilsner that is a testament to the hit 80's tv show – "Magnum PI."
On Wednesday, June 30th Sweetwater Brewery will be holding a release party for "Magnum IP" at the brewery.  It will be 80's themed of course.  Sweetwater recommends Hawaiian Shirts, Boat shoes, white nut huggers, chest hair and mustaches.
Quick review of Magnum IP –
Hops — Sterling, Cascade
Malts — Pilsner, Munich, Vienna
Yeast — Pilsner
Availability — 22oz Bottles small batch one time brew, and draft.  June release date.
9% ABV
100 IBU's
Sweetwater Brewery – 6/30, 5:30-7:30 pm
195 Ottley Drive Northeast
Atlanta, GA 30324
Twitter: @SweetwaterBrew
Party invite on Facebook – http://bit.ly/cVkPIG