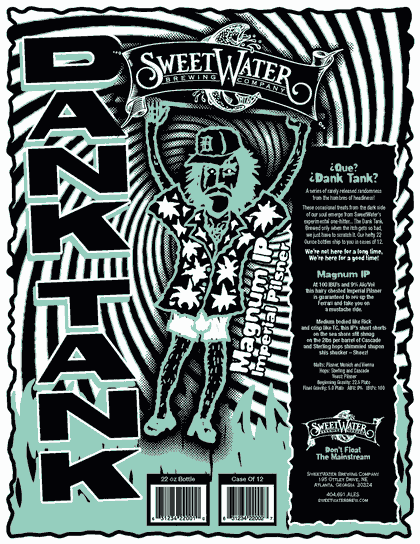 UPDATE: Due to warehouse issues-  Magnum will be arriving July 1st & 2nd.
Arriving late yesterday and early today it's the latest from Sweetwater's Dank Tank – Magnum IP. As you've probably guess by now, this edition is nod to the popular 80's tv show Magnum PI.  This Magnum however,  is an imperial pilsner.
Sweetwater Describes: At 100 IBU's and 9% ABV this hairy chested imperial pilsner is guaranteed to rev up the Ferrari and take you on a mustache ride.  Medium bodied like Rick and crisp like TC, this IP's shorts on the sea shore sfit shnug on teh 2 lbs per barrel of Cascade & Sterling hops shimmied shupon shis shucker – Sheez!
Hops – Sterling & Cascade
Malts – Pilsner, Munich, & Vienna
Yeast – Pilsner
9% ABV
100 IBU's
OFFICIAL RELEASE PARTY!!  Today, 6/30 – 5:30-7:30 pm!
Sweetwater Brewery
195 Ottley Drive NE
Atlanta, GA 30324