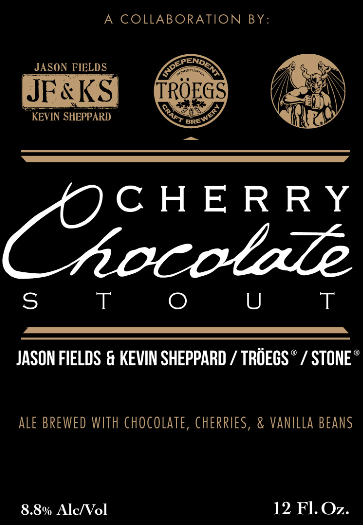 I mentioned a few weeks ago that John & Chris Trogner of Troeg's Brewing (Harrisburg, PA) flew out to Escondido, California to collaborate with Stone Brewing. Great news for sure, but the details of what was getting brewed was unknown until now.  The result is a Cherry Chocolate Stout.
This beer is actually a 3(4?) way collaboration featuring 2 homebrewer's Jason Fields & Kevin Sheppard.  The duo won the American Homebrewers Association Rally in March.  The grand prize is brewing with Stone & a brewery of their choice.  To clue you in a little bit – previous winner Ken Schmidt brewed the Kona Coffee Macadamia Coconut Porter.  (The leftover is the first edition of the Quingenti Series.) Fields and Sheppard won the rally with their Cherry Chocolate Stout recipe.  This beer will include chocolate, cherries, & vanilla beans.  John Trogner describes the collab:
[quote style="boxed"]Homebrewing is a catalyst fueling American craft brewers.  The opportunity to spend a day with Jason & Kevin (and the brewers from Stone) and bring their vision to life took us back to Boulder, Colorado, where we would spend hours formulating recipes, homebrewing, and educating our palates.  Our earliest roots start with a six-gallon pot, a beat-to-crap stove and a burning desire.  That curiosity of taste, our DIY aspirations, and youthful stubbornness has grown into Troegs Brewery, and those early days still fuel our passion.[/quote]
Style: Imperial Stout
Availability: 12oz bottles. Limited release.
8.8% ABV