After much speculation, and even a law change to entice Stone Brewing Co. to South Carolina, the brewery has chosen Richmond, Virginia as their next home.
Today the brewery announced they have signed a letter of intent with the City of Richmond solidifying their interest in the build.
Here is what to expect:
200,000 square foot production brewery & distribution facility on 14 acres
250 barrel brewhouse
Renovation of 2-story, 30K square foot building to be restaurant (on 4 acres)
288+ new jobs
Open late 2015, 2016 (World Bisto & Gardens will open year or more later)
 Year round brews and special east coast releases
The proposed site seen below, is near Williamsburg Avenue and Nicholson Street.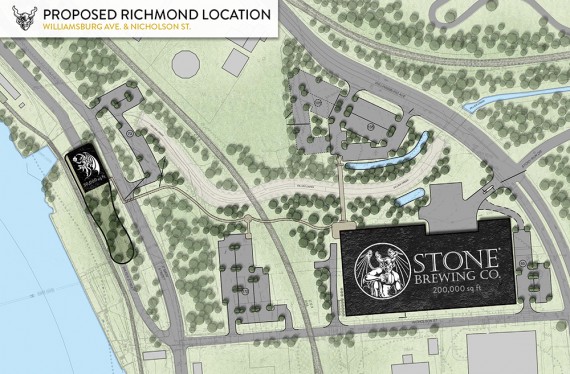 From Stone Brewing Co. co-founder Steve Wagner:
"The search for our location east of the Mississippi River was no easy endeavor," said Stone President and Co-founder Steve Wagner. "We received and reviewed hundreds of proposals, visited more than 40 sites, and received quite a bit of attention from communities and craft beer fans. The three finalist cities each provided diverse offerings, however, we decided to begin next-step negotiations with Richmond because of their ability to meet our extensive site requirements, subject to the city's approval. We also feel that Richmond's vibrant energy and impressive craft beer culture, along with the uniqueness of the property, will allow us to create a truly memorable Stone experience for our fans. We are honored by the amount of time and effort all the communities that submitted proposals put forth, and we want to specifically thank Virginia Governor Terry McAuliffe and Richmond Mayor Dwight C. Jones for welcoming us."