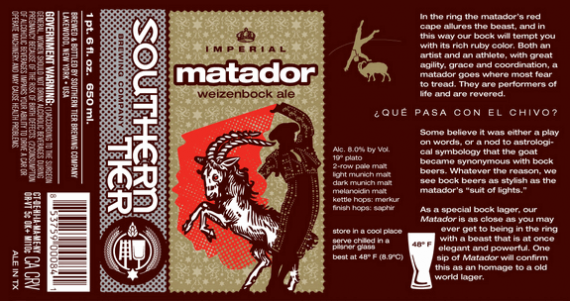 Southern Tier is working on a bock offering – Matador.
In the ring the matador's red cape allures the beast, and in this way our bock will tempt you with it's rich ruby color.  Both an artist and an athlete, with great agility, grace and coordination, a matador goes where most fear to tread.  They are performers of life and are revered. 
Some believe it was either a play on words, or a nod to astrological symbology with bock beers.  Whatever the reason, we see bock beers as stylish as the matador's "suit of lights."  As a special bock lager , our Matador is as close as you may every get to being in the ring with beast that is at once elegant and powerful.  On sip of Matador will confirm this as an homage to an old world lager.  
Style: Weizenbock
Hops: Merkur, Saphir
Malts: 2-row pale, Light munich, dark munich, melanoidin
Availability: 22oz bombers
Arrival: TBA
8% ABV