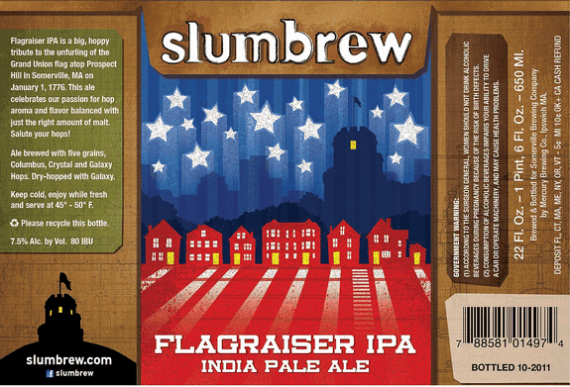 Somerville Brewing Company has officially started their brewing operations.  The brand is called  Slumbrew.
Who?
Caitlin Jewell & Jeff Leiter.  It is the result of 2 years of preparation, travel, and research at some of the United States innovative breweries.  (About 10,000 miles worth of travel.)
Where?
A true nano brewery.  "The Brewlab"
350 square feet in Somerville, Massachusetts.  Once the recipe is refined and ready, it is upscaled to a larger recipe, brewed locally at commercial breweries in MA.  Currently, these beers are being brewed at Mercury Brewing.
The Beers:
Flagraiser IPA – American IPA.  A hoppy IPA dedicated to one of the first Grand Union flag raisings atop Prospect Hill in Somerville
Happy Sol — A hefeweizen brewed with local MA honey, coriander, orange peel and over 1,000 blood oranges
Porter Square Porter — A malty chocolate porter brewed with cocoa powder and conditioned with cacao nibs from the local Taza Chocolate company.
What's in the name?
The name is a snarky throwback to the term 'Slummerville' because, as with the relationship between craft beer and large macro beers of the last century, the modern city of Somerville is nothing like its former days.
Availability: 22oz bombers, Draft. Through Arborway Imports.
Launch Party: 11/4, t The Independent Restaurant  5-8pm
[PressRelease]