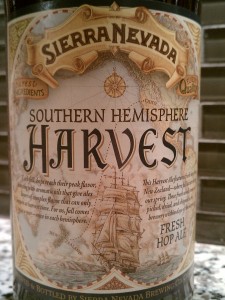 Back with a spiffy new label – it's Sierra Nevada's Southern Hemisphere Fresh Hop Ale!  Southern Hemisphere is an American pale ale that uses fresh hops from New Zealand.
Sierra Nevada used fresh New Zealand hops to give them the opportunity to make a fresh hop ale more than once a year.  Hops are harvested in the fall, which in the southern hemisphere is occurring right now.  Sierra traveled to New Zealand, picked out their hops which were dried on site,  and flew them directly back to Chico, California to get them in the boil ASAP.  The result is a pale ale with fresh hop flavor.
Ingredients –
Bittering Hops – New Zealand Southern Cross
Aroma Hops – New Zealand Pacifica & Motueka
Dry Hops – New Zealand Southern Cross, Pacifica, Motueka
Malts – Two row Pale & caramel
Tasting Expectations – Toasty, caramel-like malts with a fresh hop flavor of peppery spice, and lemon with a hint of rose like aromas.
Availability – 24oz bomber bottles.  Seasonally.
6.7% ABV
67 IBUs