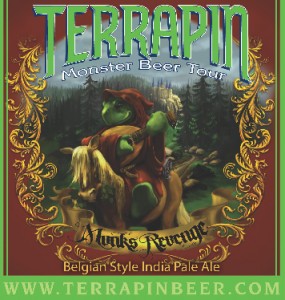 I'm not sure if Ormsby's in the Westside has tapped a cask before… If not this week during Atlanta Beer Week 2010 is their inaugural tapping.
Tomorrow at 6pm – Ormsby's will be tapping a cask of Monk's Revenge Belgian IPA in honor of beer week.
Details about Monk's –
Monk's Revenge is brewed with a malt bill like a Belgian Tripel, but with the hop content of an IPA.  The Belgian yeast comes from one of the 7 Trappist breweries.  Monk's Revenge also uses dextrose, an adjuct was used to force carbonate Monk's , and is the first time brewer Spike Buckowski has ever used it.
Ingredients —
Hops — Magnum, Columbus, Chinook, Centennial, Amarillo, Cascade, Simcoe
Malts — 2 Row, Pilsner, Munich Light, Aroma, Pale Crystal, Acidulated
9.8% ABV
99 IBU's
Ormsby's -5/18, 6pm
1170 Howell Mill Road
Atlanta, GA 30318
(404) 968-2033