Almost overnight, Scofflaw Brewing has taken Atlanta by storm. This month the brewery happily filled their first printed cans of Basement IPA. No more stickers. This beer is here to stay. It's been a crazy first year.
We are sitting at a table on a hot Georgia afternoon waiting for the canning line to crank up. Minutes later a fresh can of Basement IPA is in our hands and co-founder Matt Shirah sits down on the bench.
"Well? How is it?" he asked. Despite telling him it's fantastic, Shirah states "It's good, but it needs to be fucking better. I'm never done with it."
That never satisfied attitude is probably what made Scofflaw a household name among beer drinkers in Georgia so quickly.
Shirah and co-founder Travis Herman started Scofflaw Brewing in his mother-in-law's basement. (If you haven't figured it out by now, that's where Basement IPA gets its name.) "She thought we were fucking nuts with what we were doing down there, always wondering if she was going to go to jail for all the beer in her basement."
The basement setup was a far cry from a few carboys too. The setup entailed five 1-barrel tanks (160 gallons) full of test batches of Basement. Over time Basement IPA came into its own and really started speaking for itself. Shirah was leaving growlers of the IPA for his neighbors to try. Soon, the neighbors came knocking looking for more. Today they still do.
Basement IPA commercially turns one this month; now over 60% of the brewery's sales. The first weeks and months of Basement IPA were brewed at a 7 barrel pace. These days Herman is brewing it at 200 barrels a week. Less than 100 independent stores in Georgia receive shipments of Basement IPA. "We could brew more, but we have other beers we want make too. I get hate mail all the time about it." Shirah added.
Despite adding fermentation tanks over the past year, the big move is coming at the end of the year. Scofflaw has ordered a new 50-barrel brewhouse. The goal is to be ahead at home in Georgia. "Not California or Texas," he says.
"We want to be Atlanta's beer. I love the community connection when I walk into a local bar. It's not just beer, it's a connection to people."
Right now, Scofflaw's biggest challenge is maintaining batch consistency. They've been buying "spot hops" on the open market to keep up with demand. The brewery's hop contracts finally kick in in 2018, which is great timing considering the bigger brew setup.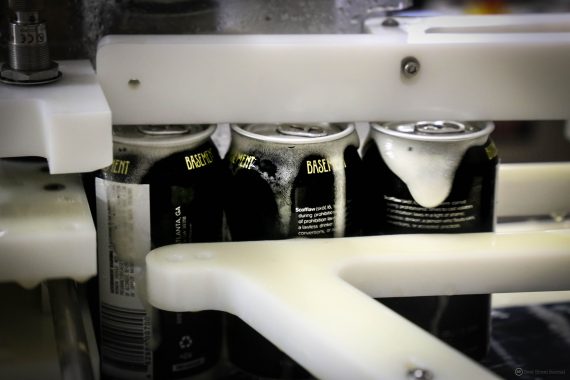 At the one year mark, Shirah has learned a lot of lessons. The hardest – holding back from "going big". "That wouldn't have worked for us. It's ok to grow slowly and at your own pace." With Scofflaw's 1st anniversary party looming, Shirah and Herman have stayed true to their original vision.
Basement IPA is designed for a broad audience, not a select few. Shirah believes the beer's approachability is how it became so popular. "I didn't need it to be something people had to stand in line for," Shirah said.
While "hype" might be helping Scofflaw grow, neither Shirah or Herman wanted it that way. The brewery does very little marketing, simply letting the beer speak for itself. "Folks feel a part of the brewery, instead of it being pushed off on them."
The tasting room was expanded earlier this year, helping Scofflaw financially break even. Georgia laws haven't always been in favor for craft breweries, so financially selling tours has been a big help. Every weekend the team looks out over hundreds of locals drinking at the source. The community has embraced Scofflaw, and vice versa. "It's a great feeling," says Shirah.
The future is indeed looking bright at year one. On September 1st, Georgia will finally allow breweries to sell beer directly to their patrons. That ability will give Scofflaw some financial breathing room. The first 365 days saw a little over 20 different beers, and Herman says they have 20+ more rolling around in their brains. After collaborating with nearby Monday Night Brewing on Westside Funk, a brettanomyces heavy IPA – a wild ale program isn't out of the question either. "Unfortunately, there's no place for funk in this brewery right now." says Shirah.
Scofflaw's expansion will take them to 25,000 barrels annually. Shirah is really excited and hopeful to find a Georgia home for their current brewhouse, stating he wants It to be a Georgia heirloom. Right now he seems more excited about finding it a home then the new system.
Besides fresh Basement IPA in painted cans, look for a experimental honey beer, a few collaborations, and barrel-aged releases in year 2. You'll finally be able to buy a pint at the brewery starting September 1st. Probably from Shirah's mother-in-law who works the door every weekend, and constantly gives Herman and Shirah advice.
"Community drives us and inspires us. Atlanta's Westside neighborhood is a strong part of our success. Always surround yourself with the best people."
We'll drink to that.