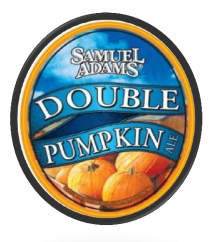 Now shipping is Sam Adams new Double Pumpkin.  Double is a variation on their Harvest Pumpkin Ale.
Always looking to try something new, this year we decided to brew a variation of our Harvest Pumpkin Ale. The result is Samuel Adams® Double Pumpkin Ale, in which we add more pumpkin and more spices to our original pumpkin brew. At a higher alcohol level, this beer is strong and full of the flavors we love during this time of year. We brew with real pumpkin, which adds a full body and sweetness to this dark, reddish-amber brew. Deep roasted malts, including smoked malt, lend a distinct roasted character, while traditional pumpkin pie spices give the beer its spice note.
Style: Imperial Pumpkin
Hops: East Kent Goldings, Fuggles
Malts: Two-Row Harrington, Caramel 60, Special B, Smoked Malt
Pure Pumpkin Puree; Pumpkin Pie Spices
Availability: 12oz bottles, Draft. Fall seasonal.
8.5% ABV, 25 IBUs