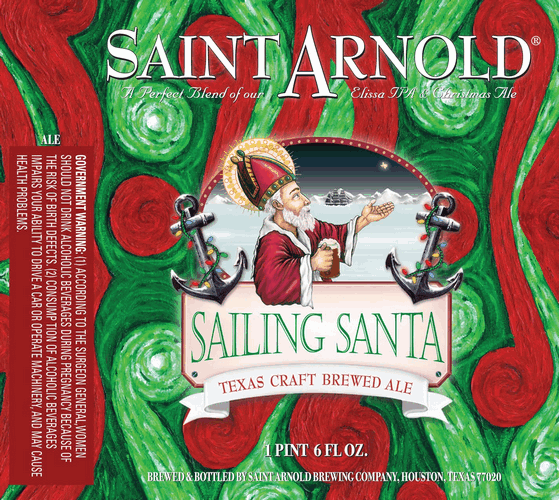 Guess when this one might be released.  Saint Arnold Brewing's (Houston, TX) Sailing Santa is a blend of Elissa IPA & Christmas Ale.
About Elissa:
A traditional India Pale Ale, the Elissa IPA is very hoppy with a properly balanced malty body. Elissa has huge hop additions in the kettle that give it a wonderful bitterness and is then dry-hopped in the fermenter to create the pleasant floral, hoppy nose. Our reverse osmosis water makes the bitter very soft with no harsh notes to it. The maltiness is derived from British Maris Otter malt. Its rich flavor stands up to the hops that would otherwise dominate this beer. The Elissa is an authentic version of an India Pale Ale (IPA) style.
 About Christmas Ale:
A rich, hearty ale perfect for the holiday season with a malty sweetness and spicy hop character. The generous use of five different malts is responsible for the full flavor and high alcohol level of this beer Saint Arnold Christmas Ale is best consumed at 45° F.
Style: Winter Warmer/ Strong Ale?
Availability: 22oz bombers
Arrival: TBD
?? ABV