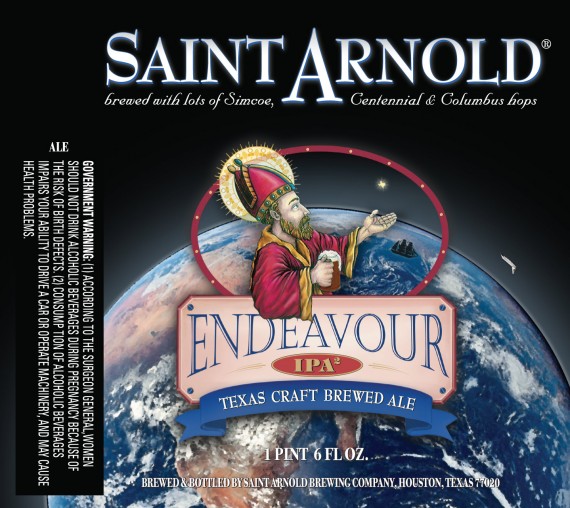 Saint Arnold Brewing launches their newest year round offering today – Endeavor.   The beer is an imperial IPA with big name hops like Simcoe, Centennial, & Columbus.
Endeavour is a double IPA. The color is deep amber with a light, creamy head. The nose starts off with a touch of citrus but then turns decidedly into peaches. The taste starts off with creamy malt resulting from the pale 2 row and caramel malts and Saint Arnold yeast. The hop bitter starts low then builds to a crescendo, but always maintains a balance even in its big finish.
Style: Imperial IPA
Availability: 22oz bombers, Draft. Year Round availability.
Cellar?  The brewery suggests seeing how the beer evolves.
8.9% ABV 
Endeavour notes (Per Saint Arnold):
1. While Endeavour is being released by our distributors on Leap Day (2/29), that does not mean all accounts will receive it that day. It may take as long as a week for some places to receive their first shipment.
2. We didn't filter the first batch of Endeavour (bottling date 2/27/12) to see how that would go. The result: part of the tank is pretty clear and part is a little chunky. So if your bottle is a little chunky, you'll know that your bottle was done closer to the end of the run. It all tastes good though! You may want to decant your bottle if the chunks bother you. We're going to try filtering the second batch which will have a packaging date of 2/29/12.
Wednesday, February 29 we will be bringing back DR11, now named Endeavour Double IPA (or IPA2 as we labeled it – yes, we understand they are not the same – artistic license). This is our super hoppy yet oddly balanced double IPA with lots of citrus and subtle peach notes. We went out to Yakima last fall as the hops were being harvested to select the hops with the best aromatics. It shows.
The beer's name, first suggested by a NASA astronaut, was selected by you who voted to name it after the space shuttle Endeavour, which in turn was named after Captain James Cook's ship that explored the Pacific. Captain Cook's ship was a bark, similar to ELISSA, Texas' tall ship moored in Galveston and the namesake of Saint Arnold Elissa IPA.