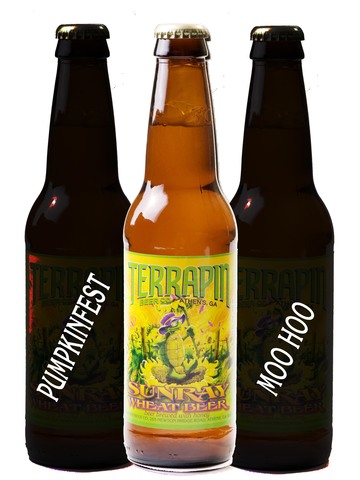 UPDATE: 6/20 – WOW! This posting got a huge response.  In the wake of one of the purported "last" kegs of Depth Charge being tapped in Atlanta, everyone seems to be hoping there is something else just like it taking it's place.  I have some more info to share on "Moo Hoo."  It will be a chocolate milk stout brewed by Terrapin.  It's that simple.  Release Date?  December.  It will join the Terrapin lineup in 3 month increments like Sunray Wheat, with the addition of Pumpkinfest, and the future Moo Hoo…
6/18 – Terrapin's collaboration with Left Hand Brewing – Depth Charge has an almost cult like following.  Brewed close to a year ago, it hit the scene with instant popularity.  After the bottles disappeared andthe kegs emptied, loose sightings of the "last" purported keg in existence seems to becoming a trend.  For many, its sad a beer so tasty will only be brewed once.
But wait.  Why only once?   A beer that so many people enjoy, a beer that has seen overwhelming success – brewed only once? What the hell are they thinking?? Well, the issue isn't as simple as just putting the ingredients together and brewing it again.  It's a collaboration between 2 breweries.  It goes beyond ingredients.  Its finances, rights to recipe, artwork, etc.  We live in a lawsuit culture, what did you expect when something is a popular sensation?
Just surfaced on Terrapin's website is a hint at an upcoming beer – "Moo Hoo."  No artwork, no release date, no ingredients.  But the name in and of itself tells a story.  Or is at least alluding to what it is.  Chocolate milk anyone?