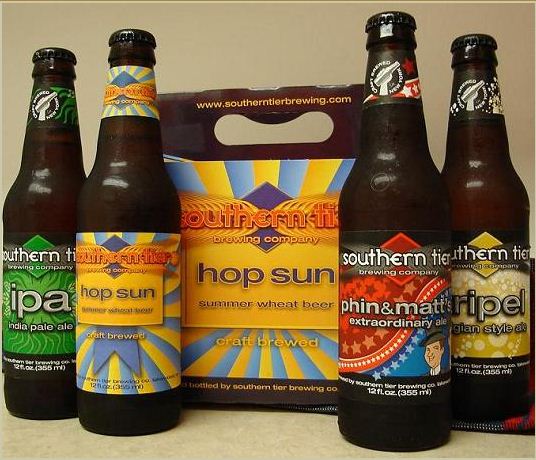 4/27 – Southern Tier has officially arrived in Atlanta.  Southern Tier hails from Lakewood, New York.  and been in business since 2002.  13 titles arrive with the launch.  Hop City just received 85 cases!! Biggest launch Kraig Torres has seen. See  below for the 13 Launch titles.
Southern Tier was founded by Phineas De Mink and Allen "Skip" Yahn with a vision of small batch brewing.  They purchased equipment from Old Saddleback Brewing Co in Pittsfield, Massachusetts when they unfortunately folded, and set up shop in Lakewood, New York.  By February 2003, Southern Tier was being distributed locally.  By 2005, all of New York state and eastern Pennsylvania.   Southern Tier admits their first few "flagship" beers were a failure.  Namely a pilsner, and a British mild.  The star of the show was the IPA.
The brewery has seen much success in recent years — now producing about 18,000 barrels of beer a year.  This success allowed Southern Tier to add a building to increase production in 2009.
The full time lineup looks like this —
IPA – 6.9% ABV.  Essentially the beer that made the brewery.  It's an American IPA. AKA — The iso-alpha acid experience
Phin & Matts Extraordinary Ale — American Pale, 5.4% ABV.  Lots of whole flower hops, malted barley, crystal filtered water.  Nice hoppy pale.
Porter — American Porter, 5.6% ABV.  Darkest offering by ST.  Complex, with chocolate and espresso tones.  Subtle hop flavors- especially in finish.
Raspberry Wheat — American Pale Wheat, 4.6% ABV.  A good fruity summer session wheat beer.  Malted barley & wheat.  Lightly hopped with American hops, with raspberries added.
422 Pale Wheat Ale — American Pale Wheat Ale, 5.8% ABV.  Unfiltered.  Hints of orange and sweet malts.  Tribute to responsible earth practices. Packaged w/ recycled materials etc.  Wheat, barley, hops play big roles in 422.
UnEarthly IPA – Imperial IPA, 9.8% ABV.  Imperial IPA with huge hop bill.  Southern Tier describes it as aggressive.
Big Red – Imperial Red Ale, 9.5% ABV.  Single hopped w/ Hallertau. Spicy. Malty with sweet undertones.
Hoppe Imperial Extra Pale Ale – 8.3% ABV.  Brewed simply with water, barley, wheat, yeast, and hops.  Minimalist approach to a complex taste.
Iniquity Imperial Black Ale – 8.9% ABV.  Called the "Antithesis of Unearthly," this is a hoppy black ale, much like a black IPA.
Jah*va Imperial Coffee Stout – 10.4%.   Brewed with Arabica beans from the mountains of Jamaica.  lots of coffee in this stout.  Heavy hitter.
Gemini Imperial Blended Ale – 9% ABV.  A blend of unearthly IPA and unfiltered Hoppe  Named for the constellation Gemini – The Twins.  Reference implied.
Oaked Aged Unearthly – Oaked Imperial IPA, 9.5% ABV.  Oaked Aged version of their Imperial IPA.  Enough said.  Drink this beer.
Hop Sun — American Pale Wheat, 4.9% ABV.  Sessionable summer wheat ale.  Dry hopped pale ale with flavors of wheat, barley, and hops.  Lemon zest and sweet malts also find their way in. Refreshing
Fall:
Pumking Imperial Pumpkin Ale — Pumpkin Ale, 7.9% ABV.  Regarded and one of the best pumpkin ales.  Contains pureed pumpkin, lots of caramel malts.  Spicy, flavorful, and delicious.
Fun Fact: Southern Tier is not only sold in the US.  It has made its way to Japan, Philippines, Singapore, Denmark, Australia, and Canada.