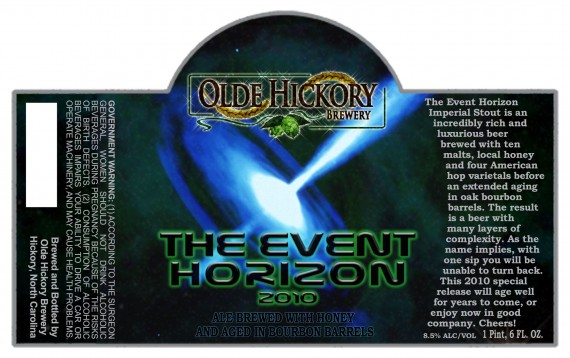 Olde Hickory Brewing (Hickory, NC) just released the 2011 edition of Event Horizon.  The beer is an imperial stout, aged in bourbon barrels, brewed with honey.  (Above is last years label)
The Event Horizon Imperial Stout is an incredibly rich and luxurious beer brewed with ten malts, local honey, and four American hop varietals before and extended aging in oak bourbon barrels. The result is a beer with many layers of complexity. As the name implies, with one sip you will be unable to turn back.
Style: Imperial Stout (Barrel Aged)
Taste Expectations: Roasty malts, mixed with vanilla, oak & brown sugar. (2010 edition)
Availability: 22oz bombers, Waxed capped. Yearly release.
8.5% ABV