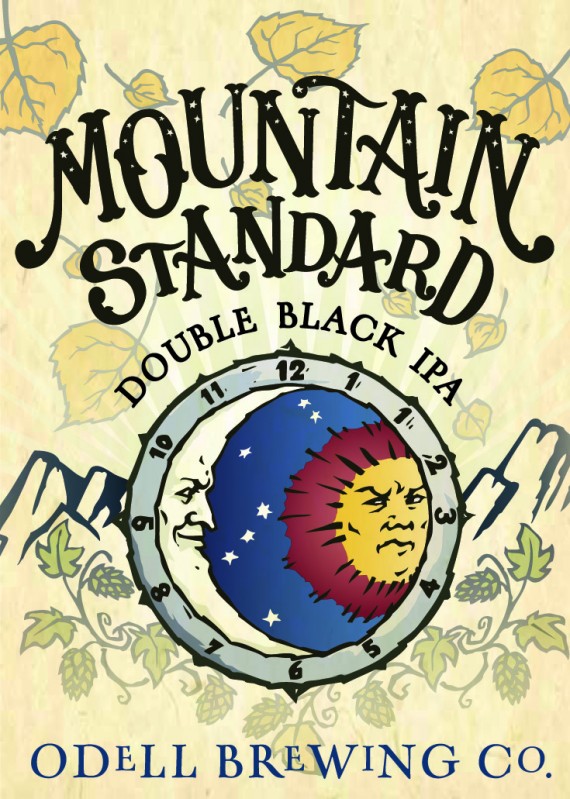 Odell Brewing's Mountain Standard Time Black IPA returns for another season, this time in a new 12oz 4 packs.
In late August, the brewery production team ventured west to hand select the hops used. Cascade and Chinook varietals present a robust hop aroma and essence that complements the rich and roasty malt backbone.
Odell will host a "Mountain Standard Bash" on November 5th. The brew and celebrate Colorado's ski and snowboard season.
Style: Black IPA
Taste Expectations: Dark roasty & chocolatey malts.  Caramel, touch of honey, full of hop flavors.
Availability: 12oz bottles, Draft. November. Odell's 10 state distribution.
9.5% ABV
Founded in 1989, Odell Brewing was started by Doug Odell, his wife Wynne, and his sister Corkie. Twenty-one years later, the culture of family and collaboration still thrives fostering a brewery full of beer-centric people. It is this passion for beer that inspires Odell Brewing to create quality, hand-crafted, innovative brews. In 2010 the brewery completed its fourth expansion, adding a wood-aging cellar, a 750 ml bottling line, and a 76 kilowatt photovoltaic system capable of providing 25% of the brewery's peak energy demand. As a regional craft brewery, Odell Brewing is committed to serving the communities in which it distributes by sourcing local raw materials, and through its charitable giving program known as Odell Outreach. Odell Brewing was recently named a "Top Company of 2010" by ColoradoBiz Magazine and is an award winning brewery, nationally and internationally: 2011 Great American Beer Festival® – gold medal for Friek. 2010 North American Beer Awards — gold medal for Woodcut No. 3. 2009 BrewNZ Awards — gold for 5 Barrel Pale Ale. 2008 World Beer Cup® — gold for IPA. 2007 Great American Beer Festival® — gold medal for IPA.