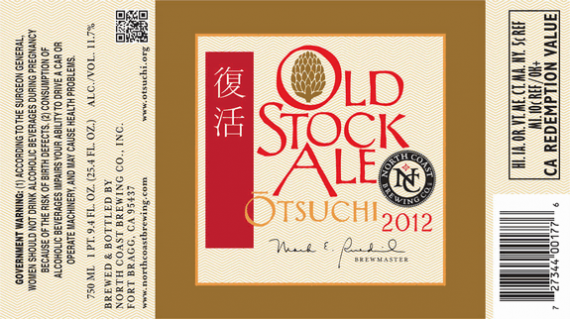 North Coast Brewing releases Otsuchi Old Stock Ale this month.  The beer benefits the Otsuchi Recovery Fund, after a devastating tsunami destroyed the town.
2011 marks the 10th anniversary of the sister city relationship between Fort Bragg, California and Otsuchi, Japan.  When the recent tsunami struck northern Japan, Otuchi was one of the hardest hit communities and this charming 800-year old city was leveled with an unimaginable loss of life and property.   
CBS recently devoted a 60 minutes episode to the Otsuchi disaster and interviewed Ken Sasaki, catayst for the sister city program.  Sasaki made it clear how important the Fort Bragg sister city relationship has been in helping to give Otsuchi the encouragement to rebuild and to maintain their "Never give up" attitude.  
The people of Fort Bragg have sent over $250,000 to help, but more importantly, they sent their love.  As a continuation of this support, North Coast Brewing makes a donation to the Otsuchi Recovery Fund for every bottle of Otsuchi Old Stock Ale sold.  North Coast Brewing invites you to enjoy this bottle with friends & celebrate the recovery of Otsuchi.  
Style: Old Ale
Availability: 750ml (of this edition)
Arrival: Anniversary of the tsunami, 3/11/12
11.7% ABV