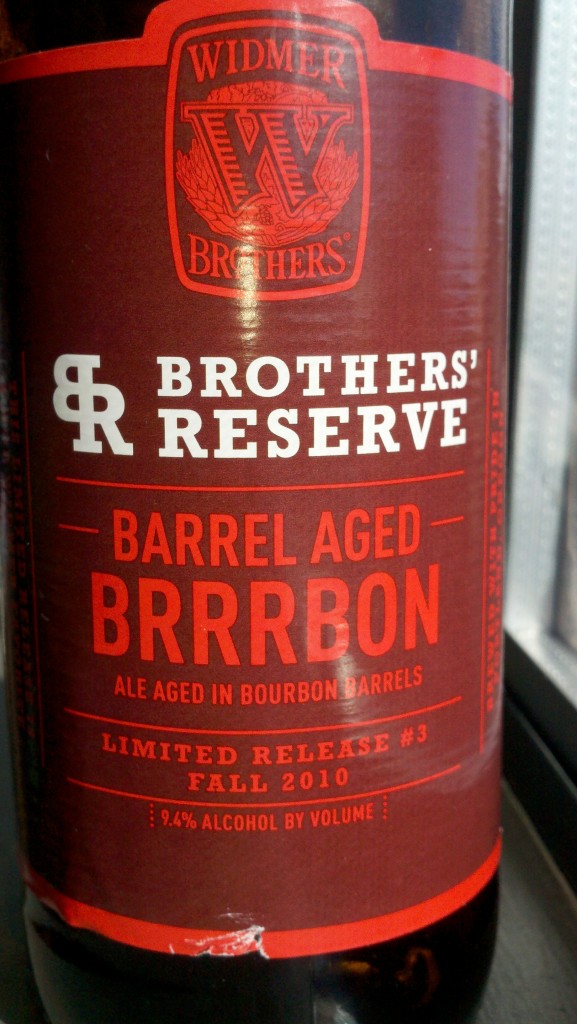 I loves me some barrel aged beers.  This new release by  Widmer Brothers Brewing (Portland, OR) is the 3rd release in their "Brothers' Reserve" series.  Brrrbon joins Cherry Oak Doppelbock, and Prickly Pear Braggot.  If you are a fan of bourbon barrel aged beers, don't pass this one up.  It sat 4 months in Kentucky bourbon barrels.  Great for sipping by a fire, tree or menorah.  If it means drinking beer, find all three.
Commercial Description:
The third release in the Brothers' Reserve series is Barrel-Aged Brrrbon. Following the successful release of our previous products in this line, Cherry Oak Doppelbock and Prickly Pear Braggot, we wanted to again surprise beer drinkers with a twist on our existing Brrr Seasonal Ale. For this release, we've taken our winter seasonal Brrr and aged it in Kentucky bourbon barrels. At 9.4% ABV, Barrel-Aged Brrrbon is an attention-grabbing beer for the enthusiastic craft beer lover. Look for it on draught and in uniquely packaged 22oz. bottles.
Beer Rundown
Style: Winter Warmer (barrel aged)
Hops: Alchemy for bittering, Simcoe & Cascade for aroma
Malts: 2-Row Pale, Carapils, Caramel 10-L, Caramel 80 L, Dark Chocolate
Taste Expectations: Earthy flavors mix with vanilla bourbon & oak.  It's a sipper, but one you can't put own.
Availability: 22oz bombers. Boxed.  Some draft.  One time limited release. Around $10 retail.
9.4% ABV