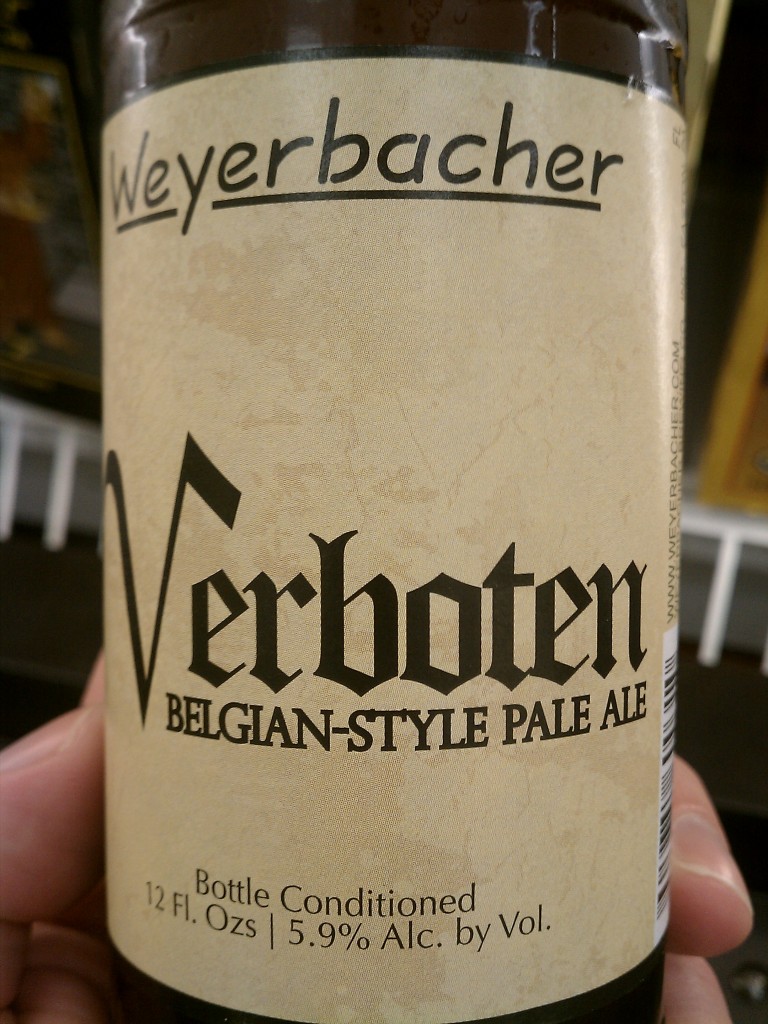 This is a new release, and not a new release.  You know this beer at Zotten.  Zotten was seasonal Belgian Pale Ale by Weyerbacher (Easton, PA.)  Unfortunately, the brewery became the subject of a lawsuit by De Halve Maan a brewery in Bruges, Belgium.  De Halve Maan owns a U.S. copyright to "Brugse Zot" which loosely translates to the same beer.  Weyerbacher was unaware of this trademark, apologized, and pulled 'Zotten" from the shelf.
With that legal ugliness aside, the beer – exactly the same  as before, has been released again under the name "Verboten."  Verboten derives from German and means forbidden.  A nice subtle throwback to the old name.
Verboten is a Belgian Pale ale with an American twist – Pacific northwest hops.
Ingredients –
Hops – Cascade, Centennial
Malts – Pale, Wheat, Cara
Yeast – Abbey Ale
Bottle and Keg conditioned
Availability – 12oz/6 pks, Draft. Seasonal Release
Taste Expectations – Banana, clove. The  Belgian pale is earthy and spicy.  You'll find a touch of hops in the finish.
5.9% ABV
30 IBU's ( Low Bitter)