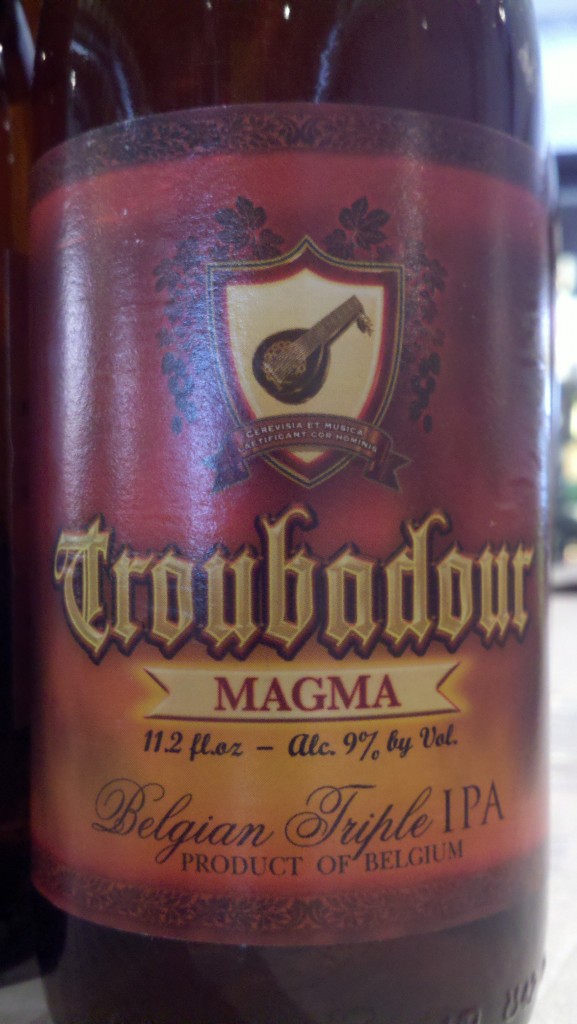 This new release heads to you from Brouwerij De Musketiers in Ursel, Belgium.   It's Belgian tripel with an American IPA influence.  You may have seen the breweries 2 other releases – Obscura (Belgian Strong Dark) and Blond (Belgian Pale).  This is not only a new beer for Brouwerij De Musketiers, but new to the United States also.
From brewer Stefaan Soetemans:
The new Magma Tripel IPA provides a formidable hop presence and is dry-hopped with American Simcoe hops, but is also tempered by the fruitiness that comes from the yeast during the fermentation process.  At the 2010 Zythos Beer Festival, held annually in Sint-Niklaas, Belgium, attendees from around the world were pleasantly surprised by Magma's balance. The beer received a positive response from both Belgian and American beer geeks.  "Not to be pretentious, but I think it's of the best of both worlds," said Stefaan. "However, the intention was not to make a beer that's loved by as many people as possible. We simply wanted to make an IPA that was smoother, one that could quench your thirst."  Ultimately, Stefaan hopes that folks who try Magma will have the same reaction they did when they tried Obscura — one that goes beyond styles and categories, and focuses on the beer itself.  "That's what I want to achieve with my beers. I want to see people expand their palates and go on to try other beers, other tastes, other flavors. It's a mission."
Style: Belgian IPA
Taste Expectations: Fruity hops. Grapefruit & citrus.  The tripel aspect shines through with some orange peel & spices. Effervescent.
Availability: Bottle re fermented. 11.4 ounce 4 pks.  Also available in 750ml.  Not yet shipping  to GA.
9% ABV