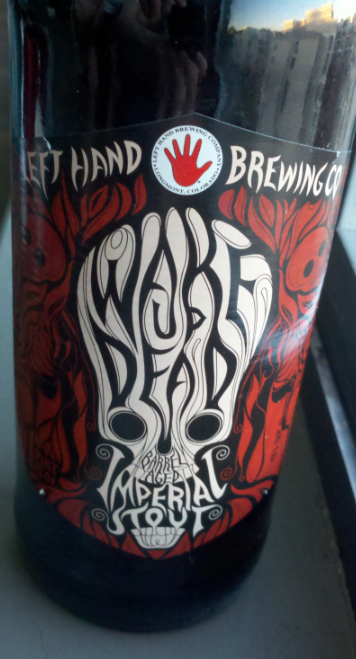 The newest barrel aged offering from Left Hand Brewing (Longmont, CO) and its a doozy.  "Wake Up Dead" follows on the heels of the sophomore release in the Fade To Black series – "Smoke Baltic Porter".  It's brandy barrel aged, for a fruity complexity to compliment the oak and dark roasty flavors.
From Left Hand:
Wake Up Dead hibernates in our cellars for 12 months in Heaven Hill Brandy Barrels before being blended to woody perfection. Hints of raisins, cherry, licorice and toffee, followed by earthy, herbal hop notes rise up, joining you in your fight for the hope of a better life.  Barrel Aged Wake Up Dead is brewed every 2 years, so it will re-appear in 2012 in oak barrels yet to be disclosed. It is very limited, as we only brewed 100 barrels.
Style: Russian Imperial Stout (barrel aged)
Taste Expectations: Dark fruits.  Cherry mixed w/ oak.  Raisins. Bit of chocolate.  Touch of coffee.
Availability: 22oz Bombers. Brewed every 2 years
10.2% ABV
Looking for this? In stock Green's.  Old Crabapple Bottle Shop, Hop City, Thursday. Have it?  Let me know.