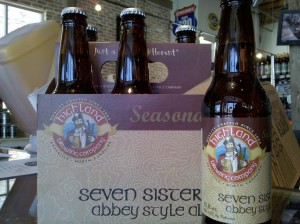 Highland Brewing's latest release adds a beer to their seasonal lineup — Seven Sisters Abbey Style Ale.  It follows Black Mountain Bitter, Highland's Winter Seasonal.
Seven Sisters Abbey Ale is of course an Abbey Ale, with double the normal grain bill, and Belgian dark candi sugar.  (Candi sugar very literally looks like rock candy.  It is implemented in the brewing process to raise the ABV of the brew, without adding to the body of the brew.)  A Belgian Trappist yeast was used in Seven Sisters — giving the beer a dark fruit tone. (And of course the Belgian flavor!)   Hop Bill includes a plethora of noble hops, adding spicy flavors to the brew and not a lot of bitterness.
Ingredients —
Hops — Hallertau Hersbrucker, German Spalt Select
Malts — Pilsen, Pale, Extra Special, & Chocolate Malts
6.5% ABV
20 IBU (Low Bitter)
Availability — 12oz/6pks, and Limited Draft offerings. Seasonal.