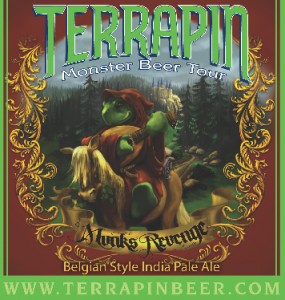 Once a 22oz side project, now a seasonal release! Terrapin's – Monk's Revenge has landed.  On the shelves, now in 12oz bottles.
Monk's Revenge is brewed with a malt bill like a Belgian Tripel, but with the hop content of an IPA.  The Belgian yeast comes from one of the 7 Trappist breweries.  Monk's Revenge also uses dextrose, an adjuct was used to force carbonate Monk's , and is the first time brewer Spike Buckowski has ever used it.
Ingredients —
Hops — Magnum, Columbus, Chinook, Centennial, Amarillo, Cascade, Simcoe
Malts — 2 Row, Pilsner, Munich Light, Aroma, Pale Crystal, Acidulated
9.8% ABV
99 IBU's
Availability – 12oz/4 pks, released once annually.  Limited draft offerings.  Estimated retail – $11.
4/13 – IN STOCK – Hop City, Green's, Tower (Buford HWY store currently)