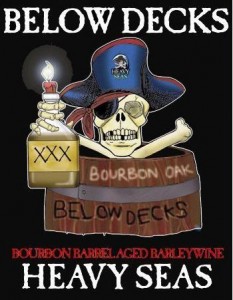 Part of the Mutiny Fleet by Heavy Seas (Baltimore, MD) comes Bourbon Barrel Aged Below Decks Barleywine.
Below Decks is an English style barleywine released once a year by the brewery.  Let me tell you it ages beautifully.  The barrel aged version is the seasonal Below Decks aged in bourbon oak barrels.  This too I'm sure will age wonderfully.  This is the first release of  this bourbon barleywine.
Taste Expectations – Oak, caramel, and vanilla.  Some sweet flavors in this beer.  The alcohol is high as it is a barleywine, but in no way overwhelms..
Availability – 22oz Bombers, and draft offerings.  Small batch, seasonally.  This is the inaugural release.
10% ABV
5/26 – In Stock at Green's