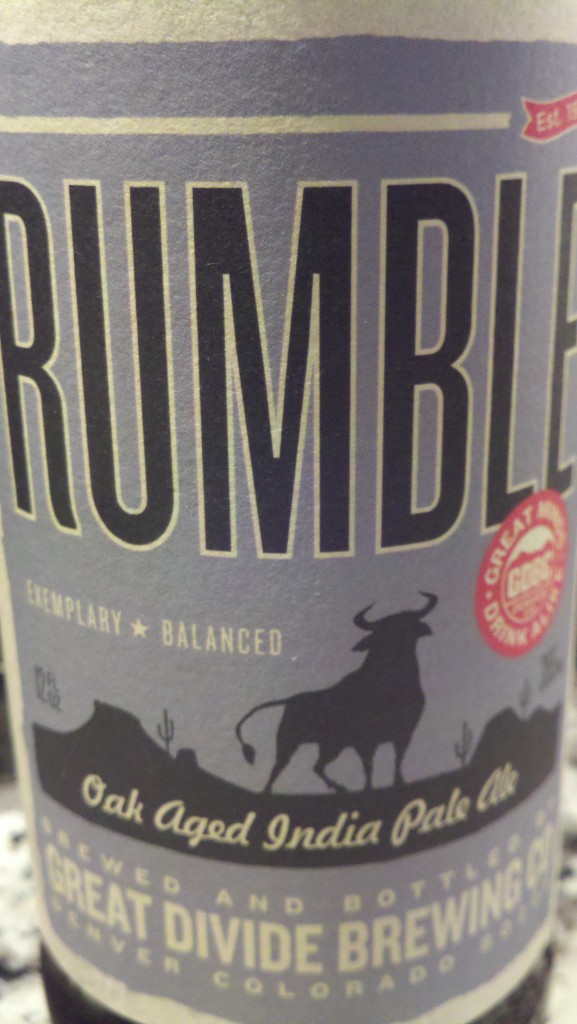 As just mentioned in the previous post about Great Divide's brewery expansion here is the second new release by the brewery.   Rumble has arrived to join Smoked Baltic Porter as the newest releases from the Denver, Colorado brewery.
According to the description — Rumble is an oak aged IPA.  Some of you may immediately think about the 15th and 16th Anniversary releases by Great Divide. While this brew is based on the same idea, Rumble is indeed different.  The flavor profile is a departure from the anniversary releases, along with the ABV being less.
From the label —
"Rumble IPA is an American IPA with subtle nuance. Brewed with heavy-handed additions of Pacific Northwest hops, this beer is gently aged on French and American oak resulting in a wonderful balance of bitterness, caramel sweetness, vanilla, and undertones of pine and citrus.  Very inspiring."
Taste Expectations: Subtle oak gives you light vanilla.  Citrus and pine hops mingle with pale and slight caramel hops.  It's an American IPA with light oak notes.
Food Pairings: Marinated skirt steak, grilled sweet potatoes, ripe Brie or Talleggio cheese, apple crisp with creme friache ice cream.
Availability: 12/6 pks. Draft.  Seasonal. August-September, annually.  2010 marks first release.
7.1% ABV