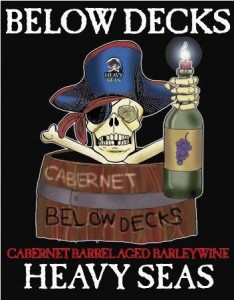 Another edition of the Mutiny Fleet by Heavy Seas (Baltimore, MD) that has arrived alongside Bourbon Barrel Aged Below Decks Barleywine, is Cabernet Barrel Aged Below Decks.
Below Decks is an English style barleywine released once a year by the brewery.  Heavy Seas took the Below Decks and aged it in two different barrels.  You saw there earlier post about bourbon oak barrels.  This version of course is aged in cabernet oak.  This is the first release of this wine barrel aged barleywine.
Taste Expectations — Wine grape, Oak, fruit, caramel, and vanilla.  Some sweet flavors are expressed in the taste.  Some tannin style flavor from the wine is also expressed.
Availability — 22oz Bombers, and draft offerings.  Small batch, seasonally.  This is the inaugural release.
10% ABV
5/28 — Both editions in stock at Hop City.
5/28 – Both in stock at Green's