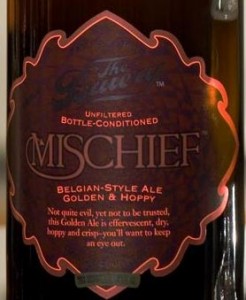 Making it's first appearance in Georgia is "Mischief" by The Bruery.  The Bruery launched in Georgia last fall, and has been slowly adding to it's offerings here.  It tapped briefly at Brickstore Pub.  Finally, Mischief is making it's bottle debut.
Mischief is a Belgian style Golden Strong Ale.  It was dry hopped with a series of American hops to give it extra character.   Mischief is hoppy, fruity, and complex.
Brewed in limited year round batches.  Mischief, like all of The Bruery's beers, are bottle conditioned, unfiltered, unpasteurized, corked & caged.
Available in 750ml champagne bottles.  Estimated price – 10.00
8.5% ABV
Hop City – In Stock
Tower – Today
Green's – Today